WELCOME TO THE $20,000 60 DAY AFTERBURN FITNESS CHALLENGE
IMPORTANT DATES:
Registration Opens: Monday, December 5, 2022
Challenge Start Date: Saturday, Jan. 21, 2023
Challenge End Date: Tuesday, Mar. 21, 2023
Finale Party: Saturday March 25, 2023
| | | | |
| --- | --- | --- | --- |
| CHALLENGE ENTRY OPTIONS |  TIER I | TIER II | TIER III |
| Challenge Entry w/$20k in Cash Prizes | | | |
| Full Membership For 60 Days | | | |
| Access To All Fitness Classes | | | |
| Customized Nutrition Program | | | |
| Access To All Weekend Events (see below) | | | |
| Private Training Discounts | | | |
| Access To Team Chat Groups | | | |
| Before & After Weighs-ins & Pictures | | | |
| Before & After Body Fat Testing | | | |
| Competitor Challenge Shirt or Tank (see below) | | | |
| Supplement Discounts | | | |
| Nutrition Seminar w/Master Nutrition Coach | | | |
| 3D Body Scan & Health Analysis (see below) | | | |
| 30 Minute Private Training Jumpstart | | | |
| Weekly Virtual Nutrition Sessions | | | |
| Non-Member Pricing Before 12/31 | $199 | $249 | $299 |
| Non-Member Pricing After 12/31 | $299 | $349 | $399 |
| Member Pricing Before 12/31 | $79 | $129 | $179 |
| Member Pricing After 12/31 | $119 | $169 | $219 |
---
How can the 3D Body Scan and Health Analysis benefit you?
Measurements: Extract hundreds of measurements. 76% more precise than an expert tailor, and way easier.
3D Model: Rotate, pan, and zoom a full body model from a body scan. Visualize shape and landmarks.
Shape Analysis: Analyze a subjects profile, silhouette, and waist-to-hip ratio. View asymmetries in shape.
Track Progress: Chart your key measurements over time. Keep your clients, patients, and members motivated.
Fat Analysis: More consistent than traditional methods, such as calipers and BIA and possible even DEXA (currently under scientific review)
Risk Assessment: Track risk of obesity related disease using waist circumference, waist-to-hip ratio, and body fat.
Goal Setting: Meet fat loss goals by setting desired weight loss, burn rate, and activity level.
Dashboard: View data analytics, set preferences, and manage your account from anywhere in the world.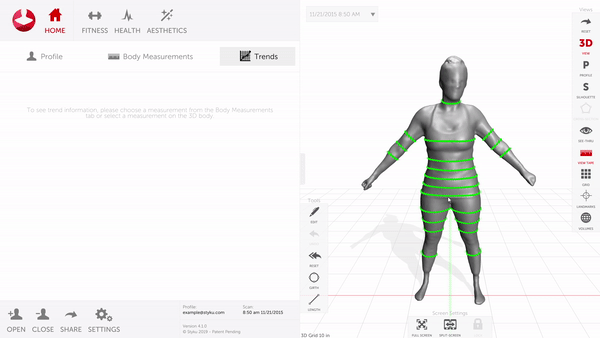 ---
Select Tier II or Tier III Options To Get Your Challenge Competitor T-shirt (men) Or Tank (women).
---
Enjoy Five Fun Weekend Challenges:
1/22 – Ultimate Tag Team
2/4 – Color Run Red/Blue
2/18 – Team Blind Fold Kayak-Marina Del Rey
3/4 – Pier to Pier Challenge
3/18 – Fit AF
(Photos are from previous challenge events.)
---